Compare Our Prices
Compare our products against any of our competitors, and you'll see why K-9 Products saves you money.

Per gallon:
HDQ: K-9's disinfectant saves you up to 50%.
Consume: K-9's odor removal product saves you up to 66%.
Dri-Dek: K9's portable, durable, vinyl flooring saves you up to 30%.
Price Comparisons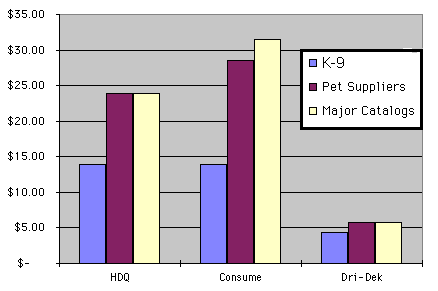 To purchase any of our money-saving products, go to Products.



Return to top
---

© 1998
K-9 Products, Inc.
1100 So. Quail Run Rd.
Watkins, CO 80137
(303) 341-2134
E-mail: gbrady@K-9Products.com
Home |
Products |
About Us |
Compare Us |
FAQs |
Testimonials |
Send E-mail |
View Cart |
Links